Fully healed in 28 days.
Scabs can last for as long as 7 to 14 days depending on how a person heals.
Define your lips with a permanent makeup tattoo
Not all lips are perfectly shaped, but this can be corrected with lip tattoo through the use of a natural, custom blended colour.The lips are the most expensive part of your makeup routine, going through a single lipstick within a few weeks is exhausting, and lipstick can be pricey!
With lip blushing you can have your lips looking just the way you want without worrying about the colour coming off! When choosing what's right for you, it is great for the client to bring their favourite lipstick.
This will give us a basic idea of what colours you feel good in and will help us choose the colour you will love most with your new semi permanent lip makeup.
It is also good for the client to use a lip scrub and apply a vitamin A cream or some honey the night before their lip blushing tattoo appointment, this will give a good canvas for the treatment.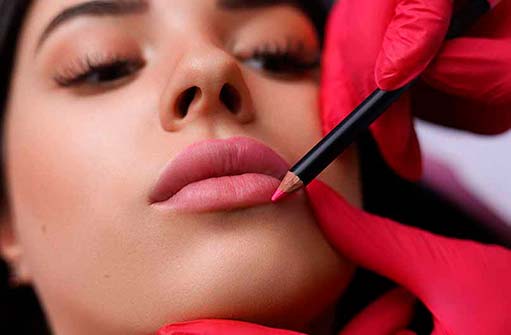 Permanent Makeup Lip Tattoo, how it is done?
Permanent Lips makeup appointment will start by coming in for a pigment test 48 hours before the treatment begins, to help prevent any allergies.

On the day, we will begin by removing your makeup and using a lip scrub if you have not done one prior to the treatment.We then carry out a client consultation to make sure your treatment is safe, before applying an anaesthetic cream.

After that, we draw the shape and contour of the lips, making sure you approve them before we begin.The treatment involves using our professional grade tattoo machine to scratch the surface of the lips and puncturing the skin layers, penetrating them with pigment.

The treatment will take up to 3 hours and after we are done you will receive a cream to use during the healing process if it is necessary.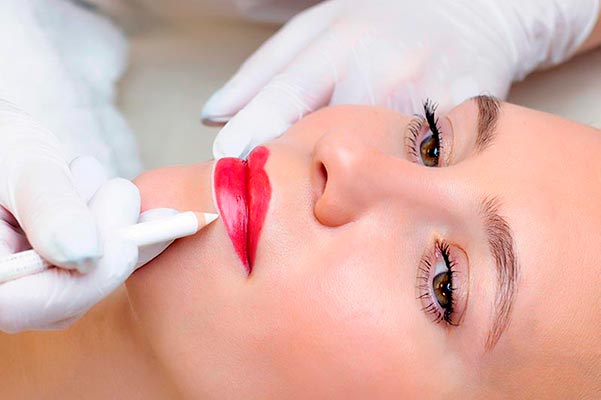 The colour of your lips will be darker after your lip tattoo appointment and can swell slightly due to extra blood circulation.
This will then turn into a blister or scab, which shouldn't be touched. The healing process will not impact the final effect or colour.
Your lips heal quickly, and the dry skin peels off after around 4 days.


The next 3-4 weeks after lip blushing treatment will consist of the colour developing and your skin taking in the pigment, so the colour you see immediately after the treatment will not be the final result.


The lip tattoo is not complete and does not present a final result until a top up appointment is done within 8-10 weeks.
Lip Blushing Before & After
Before, immediately after the treatment & fully healed examples...
Permanent makeup procedures normally require multiple treatment sessions.
For best results, clients will be required to return for at least one retouch procedure, usually between four and six weeks after the initial procedure.
Be prepared for the colour intensity to be significantly sharper and darker immediately after the procedure.
This will subside and become 30-40% lighter as the tissue heals.
This process can take up to 10 days.
Since delicate skin or sensitive areas may be swollen or red, it is advised not to make social plans for the same day.
Please wear your normal makeup to the studio on the day of the procedure.
Please inform your technician if you have taken aspirin, Ibuprofen or Coumadin within the two days leading up to procedure.
Do not discontinue any medication before consulting your doctor.
Do not drink alcohol the night before your treatment and at the day of the treatment.
A patch test will be performed minimum 48h prior to the treatment.
If you have a history of cold sores (herpes simplex), we advise you to contact your doctor to obtain the proper prescription medication for oral use to prevent such outbreaks.
Alternatively, obtain herpes medication for example Zovirax from your local chemist and use one week before and one week after your procedure. This can help minimise an outbreak.
Permanent makeup procedures do not cause cold sores, however if you carry the virus, it lays dormant in the body and can be aroused by the treatment.
Lip wax or bleaching treatments should not be undertaken for at least a two week period preceding your permanent makeup treatment.
Retain great hygiene
Avoid makeup on and around the lips for 24 hours
Do not expose the lips to any form of moisture for 24 hours
Do not scratch itchy areas, itchiness is common for the first few days
Cleanse lips twice a day with wet cotton pad and add a thin layer of cream provided by us if necessary (too much tightness of skin or discomfort)
Do not scratch or pull at any blisters or scabs, these will form for a few days and are an extremely important part of the healing process. If you accidentally scratch off a scab, please contact us immediately as this can impact the healing process and overall end result of the lips massively.
After a lip PMU treatment, it is common to contract herpes simplex (a cold sore). You will be told how to prevent and deal with this at your appointment.
General p

ermanent makeup questions
What is permanent makeup?
Permanent makeup (PMU), also known as cosmetic tattooing, is the same procedure as traditional tattooing.
A technician uses a needle to insert pigments into the dermis layer of the skin to change the skin's appearance.
The most common changes are made to the lips and brows to imitate the look of cosmetics like lipstick or brow powder/pomade.
Everyone wants to look the best they can, naturally.
Just think, how convenient it would be to enjoy perfectly shaped eyebrows, wide-awake, pretty eyes and beautifully contoured lips, without the effort of time-consuming makeup rituals? All subtle, soft and perfectly in place with no smudging, no mess, no problem.
With permanent makeup you have the confidence of knowing you look the best you can look, right round the clock.
How will I look everyday after my procedure?
You will look like yourself, except that you will have a professional makeup application done every single day; either mild soft, makeup or sophisticated.
The choice is yours. Prior to the procedure, we will guide you and provide professional advice. We will show you exactly how you will look like at the end of the treatment.
We will adapt the best look for you, according to your age and style, your face structures and shape.
The healed result will look very natural.
Will my brows look very dark after the treatment?
You should be prepared for the colour intensity to be significantly sharper and darker immediately after the treatment.
This will subside and become lighter as the skin heals. This process can take up to 14 days.
We use a numbing agent, so discomfort is very minimal.
Throughout your eyebrow tattooing treatment we will check with you to see if you're in any pain. Our clients usually rate the discomfort as about 2 out of 10, if that.
Am I suitable for permanent makeup?
As long as you're not currently pregnant, breastfeeding or undergoing chemotherapy then you should be fine for the treatments.
A medical history form will need to be completed and you will need to let us know what medication you are taking.
Once this is completed, we will be able to advise as to whether or not permanent makeup is suitable or safe for you to have done.
Is permanent makeup safe?
Permanent makeup is considered as micropigmentation, similar to tattoos. It involves using a needle to place pigmented molecules beneath the upper layers of the skin. Most procedures are done after applying an anaesthetic to the skin.
It is totally safe. A patch test is carried out before treatment starts to ensure you're not allergic to the pigment or the anaesthetic. The treatment is carried out using sterile individually packaged items which are one use only, so are disposed of straight after use.
After the initial procedure, touch-up might be required but no sooner than one month and as much as three months later.

Permanent makeup is generally considered safe. It carries the same risks as other tattoos. The most serious is the risk of infection from improperly sanitized tools and equipment.
Are there any side effects to having a PMU treatment?
Side effects to the treatment are usually localised to the treatment area. Any swelling or bruising that occurs usually subsides within 24 hours of the initial treatment. Flaking of the area is also normal during the healing process, all of which is fully explained in the aftercare sheet we provide post treatment.
Any unusual side effects such as heat, blistering and extreme itching are extremely rare and although a patch test is carried out a minimum of 48 hours prior to any treatment an allergic response/reaction could still occur at any time post treatment, even years after. If any unusual side effects occur, then please seek medical advice straight away and inform us.
Can I have my PMU done at one visit?
No. The treatment is not complete and does not present a final result until a top up appointment is done within 4-6 weeks.
You will have your top up visit booked right away in our studio after your main PMU treatment.
What is a top up and do I need one?
The treatment is not complete and does not present a final result until a top up appointment is done within 4-6 weeks.
This is because after your first treatment some of the colour may not have stayed, this happens because the skin tries to reject the pigment.
This can be corrected at your top up appointment.
Does permanent makeup fade?
PMU will gradually fade over time. Results vary from person to person: eyebrow tattoos can last from one to three years.
Lighter colours will fade faster than darker ones. The tones used for eyebrows are usually soft and natural, making them more susceptible to fading.
Fading eyebrow tattoos are sometimes caused by a few external factors like exposure to UV rays, pigment removal by the body's immune system, some anti-aging face products and natural cell rejuvenation.
How quickly will it heal?
Everyone is different, but as a general rule the surface skin heals between 3-7 days after the treatment, and 10-14 days below the surface. 
Do I need to do anything special to look after the treatment whilst it's healing?
We will provide you with aftercare instructions and a special aftercare balm to use after your treatment.
Looking after your permanent makeup as it heals is not difficult or time consuming – all you will need to do is follow our simple steps.
Is there anything I will need to avoid doing after the treatment?
We recommend that you do not apply makeup, expose the skin to extreme heat, cold or moisture, kiss, apply certain petroleum-based ointments etc immediately after your treatment.
We will explain these requirements in full and provide you a printed copy of these aftercare requirements on your visit.
The colour will appear darker straight after treatment but will lighten as the healing process takes place. If you don't like the final result after your 6 week top up there may be a few things that weren't considered during the consultation process. We try to make the consultation process as thorough as possible to avoid any miscommunication. Permanent Makeup is an art, not a science, so results can vary from person to person and no guarantees can be made related to the final outcome.

How your skin heals after permanent makeup is out of our control, however we will take great care to discuss treatments we know will enhance your face or body the way you want it to.
Can you correct or improve treatments done elsewhere
Of course, it would be a pleasure for us to help you correct any imperfections you don't like and restore your natural desired look.
Can I wear makeup after the treatment?
You can wear mineral cosmetics immediately after the treatment, however, you need to wait until the treatment area has healed before wearing traditional cosmetics. 
Can I donate blood after my treatment?
Current guidelines from the National Blood Service require anyone with permanent cosmetics to wait for 4 months after their treatment before giving blood. 
Can I have anti-ageing injections or cosmetic surgery after my treatment?
This depends on the treatment you are considering and its location. You will need to take advice from your therapist or surgeon.
It is important to remember that some of these procedures can alter the shape of your lips and eyebrows.
Can I have laser hair removal after a treatment?
Laser hair removal can fade and change the shade of your lip and brow treatment, if the removal affects that area.
Simply inform your laser technician that you are wearing permanent cosmetics prior to the treatment and they will act accordingly to accommodate for this.
Can i go on a sunny holiday immediately after my treatment?
Strong sun can impact the success of the result during the immediate healing phase. If you are going on holiday it is recommended that you wait 4 weeks before having your procedure from when you get back.
Or have your treatment 4 weeks before you go away. Having a tan within 4 weeks of treatment either side will cause the pigment to heal darker than expected.
Can I drink alcohol prior to my treatment?
It is advised that you do not drink alcohol the night before, or on the day of, your treatment. This can affect pigment retention.
I heard that I can't do MRI while wearing PMU. Is this true?
If you have an MRI scan after having permanent makeup, you should inform the practitioner prior to the scan about your treatment, when you had it and the location.
This should not prevent you from being able to have an MRI scan, but is information the practitioner will need to be aware of.
Sometimes people with permanent makeup who undergo MRIs experience swelling or burning around the tattooed area, but these effects are rare and temporary.
Health & Safety standards?
Rest assured that the equipment used is the latest and most technologically advanced. Like medical equipment, permanent cosmetic equipment is safe by design against cross contamination. All needles are single use only and device parts are autoclavable. We only use medical grade products.Every needle and item used for the treatment is opened individually for each client.

Additionally, our studio has been inspected and certified by South Ribble Borough Council.
What if I'm late for the appointment?
Late arrival to your scheduled appointment will result in your stylist being unable to carry out your procedure in order to accommodate appointments that follow yours.Depending upon how late you arrive, your technician will then determine if there is enough time remaining to start a treatment. Regardless of the length of the treatment actually given, you will be charged 75% of the full treatment value.

However, if there is an opportunity to do so, we will offer additional time for an additional fee.

Out of respect and consideration to the makeup artist and other customers, please plan accordingly and be on time.
What should I do if I have more questions?
At Bpermanent, we care about your concerns and any questions you may have. We look forward to hearing from you.

Please email us or contact us by contact form on our website with all your questions & concerns.

All emails will be responded as soon as we are free, we are taking care of every single customer and typically answer within 1-3h between the treatments.
Permanent makeup LIPS questions
What happens during a PMU lip treatment?
You'll have a consultation where we'll discuss exactly what you're looking for, including the colour and shape. And we'll take pictures before and after so you can see the amazing differences.
We will infuse the colour into your skin using a pen-like device, carefully shading your lips with tiny molecules of pigment that are deposited below the skin's surface to create your new lip contour.
A permanent lip make up treatment can take up to 2.5 hours, but this depends from person to person. 
Will i be able to go back to work straight afterwards?
Yes. Initially you'll look as if you're wearing heavy lipstick, which will then gradually fade over the next few days.
There may be a little swelling and redness directly after the treatment too, as well as some peeling.
Do you provide aftercare?
Yes – a complimentary top up visit and aftercare products are included with your treatment.
A numbing agent is applied to your lips beforehand, so discomfort is very minimal. Throughout the treatment the technician will ask if you're comfortable and adjust as needed.
How long does lip permanent makeup last?
Permanent make up can last years if looked after correctly and if you keep up with your top ups.
After your initial treatment you will be booked in for one complimentary touch up approximately 4-6 weeks after the initial appointment.
After that you won't need to be seen for another 12-18 months.
Should i bring my favourite lipstick?
If your aim is to have your favourite lipstick recreated, please bring it with you to the treatment.
This will enable the artist to custom blend an appropriate pigment.
Can permanent makeup cause cold sores?
Permanent makeup does not cause cold sores, however, if you carry the virus it lays dormant in the body and can be aroused by the treatment.
I already have cold sores, can i have a lip treatment?
If you have a history of cold sores (herpes simplex) we advise you to contact your General Practitioner to obtain the proper prescription medication to prevent such outbreaks or obtain and use your regular medication from your local chemist.
You should use for one week before and one week after your treatment. This can help to minimise an outbreak.
I have a cold sore on my lip at the moment, can i have a lip treatment?
No. The outbreak must be fully healed in order for a permanent makeup lip treatment to be performed.
Can i have a lip wax or bleaching treatment before a lip treatment?
You should not undertake a lip wax or bleaching treatment for at least two weeks prior to your permanent makeup lip treatment.
What will my lips look like immediately after the treatment?
You may experience some swelling and redness immediately after the treatment.
After this you may experience tenderness, flaking, dryness, swelling and redness for approximately 2-5 days after the treatment.
If you are feeling less than 100% healthy it may take longer for your treatment to heal and symptoms may appear more prominent.
Are there any foods I should avoid after the treatment?
If you have had a lip treatment, you should avoid eating spicy and salty foods until the area has healed. You should also drink liquids through a straw.
The first 3-4 weeks will consist of the colour developing and your skin taking in the pigment. The colour you see immediately after the treatment will not be the final result. Please see fully healed results 
HERE