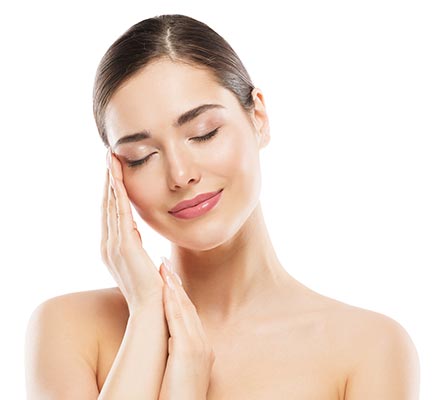 A series of 3-5 treatments at 7–14 days intervals
Topical if required (when combined with microneedling)
Age 18+ (parental consent is required for under 18s)
extraordinary effectiveness
PRX T33 is a mix of trichloroacetic acid (TCA) and hydrogen peroxide (H2O2 – hydrogen peroxide) intended for non-ablative chemical stimulation of the dermis and its bio-revitalisation without the use of needles. It is a medical product with a CE certificate.

Chemical peels with PRX T33 is an innovative method of chemical skin bio revitalisation, used for many dermatological problems and to fight against skin ageing. The treatment combines lifting, rejuvenating, cleansing and whitening properties. The unique combination of TCA acid with hydrogen peroxide and kojic acid ensures the non-invasiveness and classic occurrence of the peeling effect of the skin.
PRX T33 can be performed at any time of the year – even in summer!
This peel does not contain photosensitising substances.

The best results are achieved with a series of 3-5 treatments, performed at intervals of 7-14 days. Depending on the skins needs and to maximise the effects of PRX-T33, we recommend combining this treatment with microneedling or mesotherapy.
In this case, approximately 3 treatments are performed (every month). The final number of visits, the interval between them, as well as combined therapies, depend on the cosmetic practitioner's recommendations.
However, spectacular effects are visible after the first treatment!

PRX T33 can be combined with other treatments, such as filling with hyaluronic acid or microneedling to enhance the final effects.
Our Other Chemical Peels Treatments
medical formula spectacular effects
The unique medical formula of the PRX T33 treatment ensures spectacular effects, by combining the action of TCA acid with hydrogen peroxide and kojic acid:
33% TCA – does not damage the skin, effectively stimulates fibroblast growth factors which, thanks to the addition of hydrogen peroxide, have a greater affinity for specific receptors.
Low concentration of H2O2 reduces the aggressiveness of TCA, improves tissue hydration, and stimulates the skin's auto-regeneration mechanisms.
5% kojic acid inhibits melanogenesis and has a brightening effect.
The combination of ingredients in this product makes the treatment non-invasive and for most people it does not exfoliate, while providing a brightening and highly hydrating effect.
improvement of skin firmness and tension,
stimulation of collagen and elastin production
moisturising , nourishing and skin smoothing
reduction of blackheads
discolouration reduction
reducing the visibility of stretch marks and scars (the best results are obtained on still fresh and red lesions)
cleansing the facial skin, reducing enlarged pores

acne treatment
the loss of facial and body skin tension
wrinkles
loss of skin brightness
grey, tired skin
pronounced features of skin photoageing
firming skin in the neckline
atrophic scars, including acne scars
stretch marks
hyperpigmentation
therapy supporting the treatment of melasma and skin discolouration
therapy supporting the treatment of alopecia
loss of facial and body skin tone
firming the skin of the neckline
atrophic scars
stretch marks
support in the treatment of melasma and skin hyperpigmentation
18-25 years old – scars (chicken pox, impetigo, acne), replaces facial cleansing, smoothes the skin and helps reduce blackheads


25 – 35 years old – melasma and other hyperpigmentation (discolouration), stretch marks


35 – 45 years old – face bio revitalisation, body bio revitalisation, prevention of ageing process, sagging skin of the bust, changes in the skin of the hands, stretch marks


45 years old – correction of flabby skin, improvement of skin firmness on the décolleté, bust and hands
So far, over 1,000,000 treatments have been performed, which confirms the effectiveness of the method.
The treatment does not require any special preparation
The procedure will normally be preceded by an in-depth medical interview.
Strong cosmetic products should not be used in the area where the treatment will be performed for a few days before the treatment
AHA's, BHA's and retinol for a minimum 28 days prior
Self-tans for 7 days prior
Waxing, hair removal or bleaching for 14 days prior
UV or sun exposure for 14 days prior
No sunbathing for 4 weeks
Use high SPF 50+ sun protection every day. This is an absolute must because the epidermis becomes thinner
No use of AHA creams for 14 days
If exfoliating the epidermis, it is strictly forbidden to scratch it
It is recommended to use products with an intense moisturising effect, because only moisturised skin can regenerate effectively
7 to 14 days (depending on the peeling) after the treatment, avoid bathing in highly chlorinated water
All cosmetics recommended by your cosmetic practitioner should be applied to the skin after the treatment in order to ensure proper regeneration and maximise the effects
Make-up should not be done for 48 hours to prevent infection
As with most of our cosmetic treatments, we recommend that you avoid vigorous exercise for 7 days following your procedure and give up using saunas, swimming pools, gyms, hot baths, solariums, and other places with large groups of people
You should not drink alcohol for 24 hours
It is important to strictly follow the rules of hygiene: dry your face with disposable towels, tone the skin, keep make-up brushes, and sponges clean, regularly change bath and hand towels, avoid touching your face and replace clean sheets for the post-treatment period
After the treatment, redness, burning and peeling of the epidermis may appear, which will disappear over time
The skin after the treatment may be slightly tense
Some people experience slight redness, which disappears after 24-48 hours
Skin may feel tight and dry
Mild peeling/shedding may be experienced after the second day of treatment. These are positive effects of the treatment
pregnancy and lactation period
allergy / hypersensitivity to the ingredients of the products
bacterial, fungal, and viral skin infections, skin inflammation
active herpes, i.e., viral lesions
skin allergies
high susceptibility to allergies
damaged and irritated skin
connective tissue diseases
tendency to develop hypertrophic scars
tendency to develop keloids
sunburn
discontinuity of the epidermis
decompensated diabetes
neoplastic and autoimmune diseases (requires additional consultation)
use of corticosteroids (6-8 weeks)
oral therapy with retinoids, derivatives of vitamin A (at least 6 months break)
Surgeries (up to 2 months)
cryotherapy (up to 6 months)
skin cancers, including undergoing radiation therapy
chemotherapy
mental disorders, lack of cooperation
oral, long-term steroid therapy
Treat your skin with affordable exfoliating solution