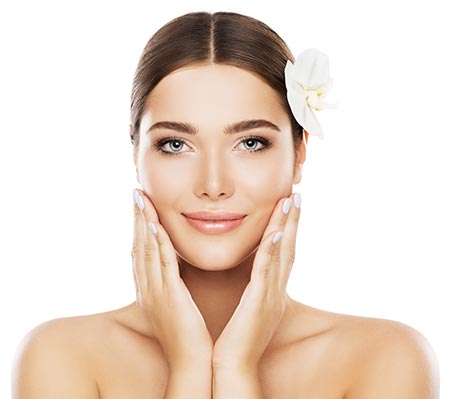 Face, neck, décolleté and back
Depends on the product chosen
Depends on the skin problem
Age 18+ (parental consent is required for under 18s)
Our Chemical Peels Treatments
Chemical Peels can be performed with the use of many different products.
At Bpermanent we only use products that are proven to have the best results, well known in the industry and of course tested by millions of customers around the world.
Every product works differently and is designated for different age groups and different skin conditions. Although the patients can suggest what product they are interested in, the cosmetic practitioner is the one who decides which product is most suitable for you and your condition and provides the best possible results. 
Please browse the variety of products we have available.
How is the right chemical peel selected?
All chemical peels have different compositions for different skin types and different skin problems. Often, mixtures of several different exfoliating substances with specific properties are created to take care of specific skin types.
Peels For Different Skin Problems
acne skin – peels contain substances with cleansing, normalising and antibacterial properties
mature skin – peels have regenerating, rejuvenating and anti-wrinkle properties
skin with discolouration – peels contain active ingredients that brighten the skin, even out the skin tone and reduce discolouration
no visible aesthetic problems – deeply moisturise and stimulate the natural processes of skin revitalisation
couperose skin – gently exfoliate, while protecting delicate blood vessels against damage
cleansing the skin
reduction of enlarged pores
skin refreshment
improvement of skin tension, firmness, and elasticity
improvement of skin tone
stimulation of microcirculation
increasing hydration, oxygenation, and nourishment of the skin
increased absorption of active substances
reduction of superficial discolouration
Chemical Peels Indications

pigmented lesions: freckles, chloasma, lentil stains
sun damage: epidermis keratosis
skin ageing: wrinkles, loss of firmness
acne scars, stretch marks, acne irregularities (medical peels, supportive therapy)
blackheads, maculopapular acne
keratosis disorders: dry skin, follicular keratosis
shallow wrinkles, loss of skin firmness (medical peels)
skin thinning
dirty, rough skin
common acne, blackheads, maculopapular acne, rosacea
post-inflammatory, sun and hormonal discolouration
dry skin, skin lacking radiance, requiring lightening
oily, combination skin with enlarged pores, seborrhoea
follicular keratosis
The treatment does not require any special preparation
The procedure will normally be preceded by an in-depth medical interview.
Strong cosmetic products should not be used in the area where the treatment will be performed for a few days before the treatment
AHA's, BHA's and retinol for a minimum 28 days prior
self-tans for 7 days prior
Waxing, hair removal or bleaching for 14 days prior
UV or sun exposure for 14 days prior
No sunbathing for 4 weeks
Use high SPF 50+ sun protection every day. This is an absolute must because the epidermis becomes thinner
No use of AHA creams for 14 days
If exfoliating the epidermis, it is strictly forbidden to scratch it
It is recommended to use products with an intense moisturising effect, because only moisturised skin can regenerate effectively
7 to 14 days (depending on the peeling) after the treatment, avoid bathing in highly chlorinated water
All cosmetics recommended by your cosmetic practitioner should be applied to the skin after the treatment in order to ensure proper regeneration and maximise the effects
Make-up should not be done for 48 hours to prevent infection
As with most of our cosmetic treatments, we recommend that you avoid vigorous exercise for 7 days following your procedure and give up using saunas, swimming pools, gyms, hot baths, solariums, and other places with large groups of people
You should not drink alcohol for 24 hours
It is important to strictly follow the rules of hygiene: dry your face with disposable towels, tone the skin, keep make-up brushes, and sponges clean, regularly change bath and hand towels, avoid touching your face and replace clean sheets for the post-treatment period
After the treatment, redness, burning and peeling of the epidermis may appear, which will disappear over time
The skin after the treatment may be slightly tense
Some people experience slight redness, which disappears after 24-48 hours
Skin may feel tight and dry
Mild peeling/shedding may be experienced after the second day of treatment. These are positive effects of the treatment
Chemical Peels Before & After
pregnancy and lactation period
allergy / hypersensitivity to the ingredients of the products
bacterial, fungal, and viral skin infections, skin inflammation
active herpes, i.e., viral lesions
skin allergies
high susceptibility to allergies
damaged and irritated skin
connective tissue diseases
tendency to develop hypertrophic scars
tendency to develop keloids
sunburn
discontinuity of the epidermis
decompensated diabetes
neoplastic and autoimmune diseases (requires additional consultation)
use of corticosteroids (6-8 weeks)
oral therapy with retinoids, derivatives of vitamin A (at least 6 months break)
surgeries (up to 2 months)
cryotherapy (up to 6 months)
skin cancers, including undergoing radiation therapy
chemotherapy
mental disorders, lack of cooperation
oral, long-term steroid therapy
Frequently
Asked
Questions
Can chemical peels be combined with Botox treatments?
No. Lasers, Botox and Dermal Filler treatments cannot be done for 1 week before or 1 week after chemical peel treatments.
Can skin peels be used if I am taking Accutane?
No. Accutane must be stopped for 6 months prior to this treatment.
How many chemical peels are needed for best results?
When it comes to chemical peels, the best results come from multiple treatments. A superficial peel typically requires repeated treatments every 3-4 weeks until the desired effect is achieved. After these treatments are complete, some patients may require maintenance therapy once every few months.
When will I see results after a chemical peel treatment?
The results of a chemical peel are cumulative, which means that each treatment you perform will offer improvement to your overall complexion. The results for a medium-depth peel can be seen immediately, you'll notice a decrease in sun damage, signs of ageing, scarring, acne and uneven skin tone. A superficial peel can reduce some issues but does not eliminate sun damage and signs of ageing.
What will my skin be like afterwards?
Professional Chemical Peels help your body generate younger, smoother, and fresher skin. You will notice these changes immediately after one treatment. At Bpermanent Clinic, we recommend multiple treatments to promote long lasting results.
Are there different formulas?
Of course! There are different formulas to treat various concerns of the client. At Bpermanent Clinic, we customise every treatment to the needs of each client. During your FREE consultation, your cosmetic practitioner will target your skin condition and expectations for treatment, as well as selecting a chemical peel best suited for you.
How is this treatment carried out?
After the formula has been mixed, it will be applied with a mask brush or by hand, by your cosmetic practitioner, all in the comfort of one of our private rooms.
Will it really make a difference in my skin?
Absolutely! Chemical Peels are ideal for eliminating surface-level blemishes and imperfections such as: Fine Lines, Wrinkles, Scarring, Dull Complexions, Rough Skin Texture and Uneven Skin Tone.
What do Chemical Peels do?
Chemical Peels encourage your skin's youthful glow by helping the body's natural rejuvenation process. This means that it helps speed up the turnover rate of dead skin cells, leaving fresh new ones on the skins surface. Without treatment, our complexion can look dull, while our age spots become more visible.
Are Chemical Peels painful?
Typically, a chemical peel causes little to no pain. Your skin might feel hot and tight, as it would after being sunburned. Once the peel has been neutralised, your skin will feel fresh and smooth, with no discomfort.
What are the possible side-effects of a Chemical Peel?
Following a chemical peel, your skin might feel as it would after having been sunburned—somewhat tight, hot, and tingling. Redness, flaking and mild bruising or slight swelling are normal and can last from two to seven days.
Am I required to book a consultation prior to being treated?
Yes, we will book a complimentary* consultation appointment for you prior to scheduling any chemical peel treatment. This is for your own protection, and we cannot make exceptions. At this time, you should also share with us any past experience you have had with skin rejuvenation and/or laser skin treatments.
Yes, it is. When performed correctly by a certified and experienced cosmetic practitioner, a chemical peel is both safe and effective. However, it is a clinical procedure and as with all clinical procedures, there are potential risks.
Treat your skin with affordable exfoliating solution!