2-3 treatments at intervals of 6 to 8 weeks
Volumizes & Lifts the Skin
LENISNA is an exceptional hybrid filler that combines the immediate filling effect of hyaluronic acid (HA) with the long-term collagen-stimulating properties of PDLLA (Poly D,L-lactide).

Crafted as a time-acting filler, LENISNA features a precise composition of 170 mg PDLLA polylactic acid and 30 mg non-cross-linked hyaluronic acid. This unique formulation, combined with particle sizes ranging from 50 to 60 micrometres, allows for targeted application in subcutaneous or periosteal tissue.

Designed to address deep wrinkles, laxity, and significant tissue defects, LENISNA provides remarkable outcomes.

The powerful combination of PDLLA polylactic acid and HA hyaluronic acid yields immediate visible results following treatment. This filling effect endures until the production of new collagen and elastin by the polylactic acid takes precedence.

Approximately two weeks after treatment, the presence of PDLLA lactic acid microparticles initiates collagen production. The therapeutic effects of LENISNA can be enjoyed for over two years after the final treatment.

To achieve optimal outcomes based on individual skin requirements, it is recommended to undergo 2 or 3 treatments at intervals of 6-8 weeks. After the two-year mark, a single reminder treatment is advised to maintain the results.

LENISNA is the ultimate choice for individuals seeking a hybrid filler that combines immediate volumizing effects with long-term collagen stimulation. Experience the transformative power of LENISNA and unlock a rejuvenated appearance that lasts.
The only hybrid formula in the world with Poly D, L Lactide + HA with particle size from 50 to 60 micrometres!
targets deeper tissues which volumizes and lifts the skin!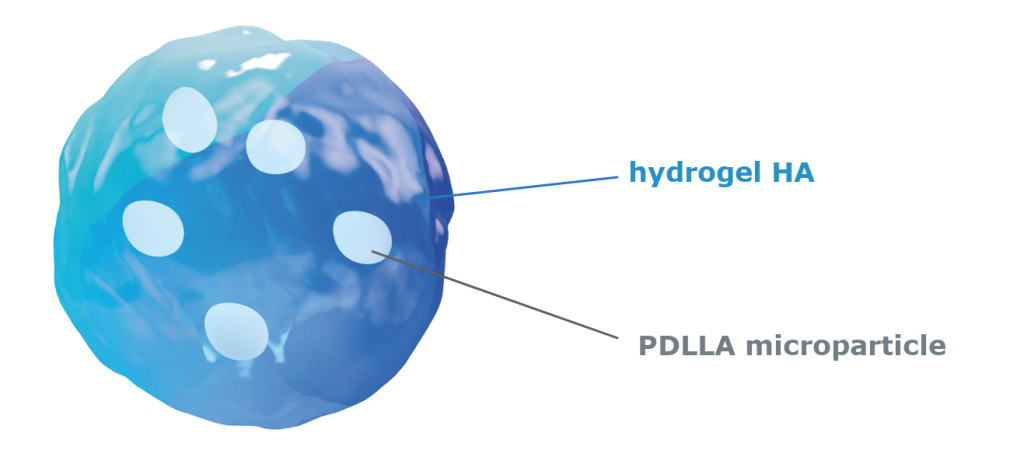 Immediately following the injection, LENISNA particles swiftly locate and fill the wrinkled areas with HA material. Simultaneously, PDLLA microparticles prevent the HA hydrogel from migrating out of the targeted region, enhancing cohesiveness through their unique properties.
After 1 Month - Restoration
After one month, as the HA begins to undergo hydrolysis, PDLLA microparticles step in to support collagen production and enhance skin elasticity. At this pivotal stage, the action of PDLLA gains prominence, leading to sustained, long-term collagen synthesis.
After 6 Months - Maintenance
At the six-month mark, the remarkable results achieved through LENISNA become fully apparent. Gradually, the product undergoes biodegradation, while simultaneously restoring the skin's volume through physical stabilization and the generation of newly synthesized collagen fibres. These fibres sustain the natural effect over an extended period.
Read also about JUVELOOK hybrid filler for eye area!
Hydration and nutrition
Reduction of wrinkles
Improvement of skin tension
Revitalization
Illumination
Regeneration
Thickening of the skin structure
Effectiveness and safety confirmed by clinical trials
Long-lasting effects of over 2 years from the last treatment
Immediate visible results due to the presence of hyaluronic acid

Clear signs of aging (40+)
First signs of aging
Volume enhancement for sunken face areas
Folds in the skin
Wrinkles
Furrows
Face drooping
Skin laxity
Lack of radiance in the skin
Low skin tension
The treatment does not require any special preparations.
The procedure will normally be preceded by an in-depth medical interview.
Chemical peels and strong cosmetic products should not be used in the area where the treatment will be performed for a few days before the treatment
You should not drink alcohol 48 hours before the procedure
Avoid strong heating of the body before the treatment (solarium, saunas, direct sunlight)
For 4 days, do not expose yourself to direct sunlight, or warm-up treatments.
It is recommended to use SPF 50 sunscreen creams
As with most of our cosmetic treatments, we recommend that you avoid vigorous exercise for 7 days following your procedure, we give up using the sauna, swimming pool, gyms, hot baths, solariums, and other places of a large group of people
Chemical peels and strong cosmetic products should not be used in the area where the treatment will be performed for a few days after the treatment
You should not drink alcohol for 24 hours
Make-up should not be done for 48 hours to prevent infection
It is important to strictly follow the rules of hygiene: dry your face with disposable towels, tone the skin, keep make-up brushes, and sponges clean, regularly change bath and hand towels, avoid touching your face, replace clean sheets for the post-treatment period.
Mild swelling in the area of application
Erythema, itching, irritation
All forms of allergic reactions to the products used during the treatment
After the treatment, redness, burning and even peeling of the epidermis may appear, which will disappear over time
There may be also light swelling in the area of the treatment
Lenisna Contraindications
below 18 years old
pregnancy and lactation period
allergy / hypersensitivity to the ingredients of the products
hypersensitivity to hyaluronic acid
bacterial, fungal, and viral skin infections, skin inflammation
active herpes, i.e., viral lesions
severe forms of acne requiring pharmacological treatment
blood coagulation disorders
use of anticoagulant drugs
skin allergies
high susceptibility to allergies
damaged and irritated skin
connective tissue diseases
tendency to develop hypertrophic scars
tendency to develop keloids
inflammation of the skin in the treated area
sunburn
discontinuity of the epidermis
decompensated diabetes
neoplastic and autoimmune diseases
use of immunosuppressive drugs
use of corticosteroids (6-8 weeks)
oral therapy with retinoids, derivatives of vitamin a (at least 6 months break)
condition after surgery at the site of surgery (up to 2 months)
multiple melanocytic marks, numerous telangiectasias
condition after cryotherapy (up to 6 months)
skin cancers, including undergoing radiation therapy
chemotherapy
mental disorders, lack of cooperation
oral, long-term steroid therapy
psoriasis
lupus
rheumatoid arthritis
unregulated Thyroid diseases/Hashimoto

active infection
Frequently
Asked
Questions
LENISNA stands out from other treatments due to its unique qualities:
Unparalleled Collagen Stimulation: LENISNA possesses the exceptional ability to stimulate collagen production in the most effective manner, resulting in a gradual and natural restoration of a youthful appearance.
Hassle-Free Post-Treatment Care: Unlike other procedures, LENISNA eliminates the need for post-treatment massages. This convenience is made possible by the round shape of PDLLA acid molecules and their synergistic combination with non-cross-linked hyaluronic acid.
Long-Lasting Results: The benefits of LENISNA endure for over 24 months from the last treatment. To maintain the effect, a single reminder treatment after 24 months is all that is needed, ensuring a prolonged and sustained outcome.
Choose LENISNA for an exceptional treatment experience that maximizes collagen production, simplifies aftercare, and delivers long-lasting results. Embrace the unique advantages that set LENISNA apart from the rest.
How many treatments do I need?
For guaranteed and continued visible results, we recommend undergoing three sessions at intervals of 4 to 6 weeks. We will work closely with you to create a personalized treatment plan that aligns with your desired outcomes. The treatment effects of LENISNA last for over 24 months from the last procedure. To maintain the effect, a single reminder treatment after 24 months is recommended.
LENISNA Volume ensures safety throughout the treatment process. The size of LENISNA particles is carefully designed to prevent phagocytosis by macrophages in the skin and to avoid penetrating the walls of capillaries. Additionally, their round and porous shape eliminates the risk of lumps under the skin. As a result, LENISNA is a safe product for the skin injections.
No, there is no downtime associated with the LENISNA procedure. You can resume your normal activities immediately after the treatment, without any interruption or recovery period.
How the procedure looks like?
The procedure begins with the preparation of the product in a laboratory shaker. It takes approximately 30 minutes to prepare the product for injections. In the case you need it, our specialist will perform a local anaesthesia at the injection areas to ensure your comfort. Next, the product is carefully injected using a thin cannula or needles. That's it!
How to prepare yourself for the treatment?
Preparing for a LENISNA treatment does not require any special precautions. Before each session, a thorough medical consultation will be conducted to assess the condition of your skin and plan the treatment areas accordingly.
What to expect immediately after the treatment?
Following the procedure, you may experience slight post-treatment swelling, particularly in sensitive areas like the eye area, for the first and second day. However, this swelling typically subsides by the third day, allowing you to enjoy the full benefits of your LENISNA treatment.
Treat your skin with hybrid filler solution!