Eye area, tear valley, lower eyelid
2-3 treatments at intervals of 6 to 8 weeks
The world's only poly D,L lactide
During the aging process, visible changes primarily occur on our skin. The gradual reduction of collagen, elastic fibres, and hyaluronic acid leads to a decline in skin firmness and elasticity, resulting in sagging and the appearance of wrinkles. JuveLook is designed to address these concerns and restore and preserve a youthful appearance through regular applications.

JuveLook Hybrid Filler is an intensive tissue stimulation product from Korea. It stimulates collagen synthesis, ensuring optimal hydration, firmness, and improved skin elasticity. JuveLook works in two stages: initially, it tightens the skin and fills wrinkles with hyaluronic acid. This filling effect is maintained until the production of new collagen becomes dominant through the action of polylactic acid. With its patented technology, the product eliminates the risk of subcutaneous lumps during administration and does not require post-treatment area massage.

JuveLook is a hybrid filler that combines the immediate filling effect of hyaluronic acid (HA) with the long-term stimulation of collagen production by PDLLA (Poly D,L-lactide).

The therapy's effects become visible immediately after injection, thanks to the presence of hyaluronic acid. Approximately two weeks later, collagen production is initiated by PDLLA lactic acid microparticles. The therapy's effects last for over 2 years after the last treatment. The recommended number of treatments is 2 or 3, depending on the skin's condition, with intervals of 6-8 weeks.

After two years, it is recommended to undergo a single reminder treatment.
targets deeper tissues which volumizes and lifts the skin!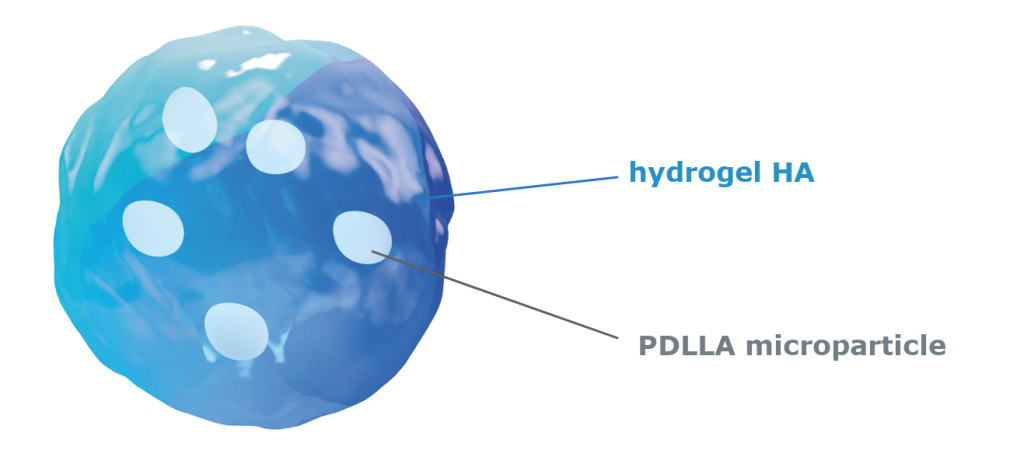 Immediately following the injection, JuveLook takes effect by filling the wrinkled areas with HA material. Simultaneously, the included PDLLA microparticles prevent the migration of the HA hydrogel from the target area, enhancing cohesiveness.
After 2 Weeks - Restoration
After one month, as the HA begins to undergo hydrolysis, the PDLLA microparticles support collagen production and contribute to the improvement of skin elasticity. This marks a turning point where the action of PDLLA becomes more prominent, leading to long-term collagen production.
After 6 Months - Maintenance
After six months, the final results of using JuveLook become apparent. The product gradually biodegrades, restoring the skin's volume and promoting the synthesis of newly formed collagen fibres. These fibres maintain a natural effect over time, providing lasting benefits.
Read also about Lenisna hybrid filler for face & body!
induction of collagen synthesis
hydration
reduction of wrinkles
improvement of tension
revitalization
illumination
regeneration
nutrition
thickening of the skin structure
for dull skin, with the first signs of aging, with low tension, up to 40 years of age.

Dark circles under the eyes,
Volume loss in the area of ​​the lower eyelid,
A marked tear trough
Smoothing wrinkles,
Improvement of skin tension and nourishment.
The treatment does not require any special preparations.
The procedure will normally be preceded by an in-depth medical interview.
Chemical peels and strong cosmetic products should not be used in the area where the treatment will be performed for a few days before the treatment
You should not drink alcohol 48 hours before the procedure
Avoid strong heating of the body before the treatment (solarium, saunas, direct sunlight)
For 4 days, do not expose yourself to direct sunlight, or warm-up treatments.
It is recommended to use SPF 50 sunscreen creams
As with most of our cosmetic treatments, we recommend that you avoid vigorous exercise for 7 days following your procedure, we give up using the sauna, swimming pool, gyms, hot baths, solariums, and other places of a large group of people
Chemical peels and strong cosmetic products should not be used in the area where the treatment will be performed for a few days after the treatment
You should not drink alcohol for 24 hours
Make-up should not be done for 48 hours to prevent infection
It is important to strictly follow the rules of hygiene: dry your face with disposable towels, tone the skin, keep make-up brushes, and sponges clean, regularly change bath and hand towels, avoid touching your face, replace clean sheets for the post-treatment period.
Mild swelling in the area of application
Erythema, itching, irritation
All forms of allergic reactions to the products used during the treatment
After the treatment, redness, burning and even peeling of the epidermis may appear, which will disappear over time
There may be also light swelling in the area of the treatment
JoveLook Contraindications
below 18 years old
pregnancy and lactation period
allergy / hypersensitivity to the ingredients of the products
hypersensitivity to hyaluronic acid
bacterial, fungal, and viral skin infections, skin inflammation
active herpes, i.e., viral lesions
severe forms of acne requiring pharmacological treatment
blood coagulation disorders
use of anticoagulant drugs
skin allergies
high susceptibility to allergies
damaged and irritated skin
connective tissue diseases
tendency to develop hypertrophic scars
tendency to develop keloids
inflammation of the skin in the treated area
sunburn
discontinuity of the epidermis
decompensated diabetes
neoplastic and autoimmune diseases
use of immunosuppressive drugs
use of corticosteroids (6-8 weeks)
oral therapy with retinoids, derivatives of vitamin a (at least 6 months break)
condition after surgery at the site of surgery (up to 2 months)
multiple melanocytic marks, numerous telangiectasias
condition after cryotherapy (up to 6 months)
skin cancers, including undergoing radiation therapy
chemotherapy
mental disorders, lack of cooperation
oral, long-term steroid therapy
psoriasis
lupus
rheumatoid arthritis
unregulated Thyroid diseases/Hashimoto

active infection
Frequently
Asked
Questions
What makes JuveLook unique?
JuveLook stands out for several reasons:
It is the only polylactic acid product approved for use in the eye area, as well as for mesotherapy of the face, neck, and neckline.
It stimulates collagen production in a powerful way, gradually restoring a youthful appearance.
There is no need to massage the post-treatment areas due to the round shape of PDLLA acid molecules and their combination with non-cross-linked hyaluronic acid.
The treatment's effects can last over 24 months from the last session. A single reminder treatment after 24 months can help sustain the results.
JuveLook is a time-activated hybrid filler with a concentration of 42.5 mg of poly D,L lactide and 7.5 mg of non-cross-linked hyaluronic acid.
Yes, JuveLook Volume is safe for injection into the skin. The main components, PLA and Hyaluronic Acid, are safe and naturally present in your body. PLA will naturally break down over time.
No, there is no downtime associated with the procedure. You can resume your normal activities immediately after the treatment.
Can JuveLook be used with the mesotherapy method?
Yes. JuveLook has been specifically designed as a filler that works overtime with a concentration of 42.5 mg of PDLLA acid and 7.5 mg of non-cross-linked hyaluronic acid. By adjusting the amount of the solution and the particle size (10 to 40 micrometres) and combining them with non-cross-linked hyaluronic acid, a hybrid formulation was created suitable for mesotherapy applications on the face, neck, neckline, and eye area.
How the procedure looks like?
The procedure starts with preparing the product in a laboratory shaker, which takes approximately 30 minutes. If a cannula is used for injection, a specialist will perform anaesthesia at the injection areas. Next, the product is carefully injected using a thin cannula or needles.
JuveLook can be applied to the following areas:
Eye area: lower eyelid, crow's feet, tear valley
Facial skin
Neck
Décolleté
Forehead
How to prepare for the treatment?
Preparing for JuveLook treatment does not require any special precautions. However, a medical consultation should be conducted before each treatment to assess the condition of the skin and plan the treatment areas.
Who is the treatment for?
This product, with its moderate concentration of 42.5 mg of polylactic acid and 7.5 mg of hyaluronic acid, is intended for the revitalization of large areas of the skin. It is commonly offered to individuals who:
Want long-lasting skin brightening and firming effects
Seek to regenerate the eye area
Wish to get rid of mesh wrinkles
Desire permanent skin tightening and nourishment
What to expect immediately after the treatment?
Immediately after the procedure, you may experience slight post-treatment swelling, especially in sensitive areas like the eye area, for the first and second day. The swelling typically subsides by day 3. In the case of JuveLook, mild hematomas may
Treat your skin with hybrid filler solution!