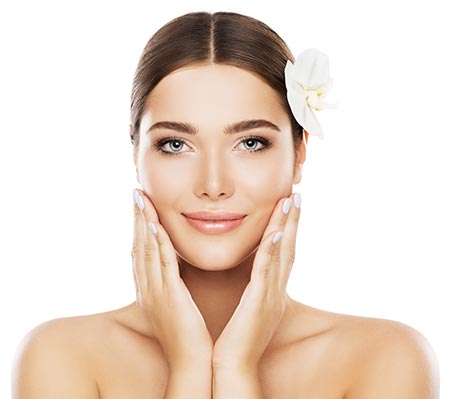 A series of 4-6 treatments at 28-day intervals
long-term effect without the risk of skin irritation.
Our intelligent skin has the ability to convert retinol into another form of vitamin A, called retinoic acid. Because only retinoic acid is the active form of vitamin A, which stimulates our cells to stimulate collagen and repairs and normalises the functioning of skin cells. By applying retinol to the skin, we get all the long-term benefits of retinoic acid without the risk of skin sensitisation and irritation.
Effectiveness and safety confirmed in research
Together with food, our body produces vitamin A. However, with time and mainly by UV radiation, this process weakens. One of the most effective time-stopping therapies by delivering retinol deep into the skin is the Retix C treatment.

The Retix C is a modern skin renewal therapy with a strong rejuvenating and brightening effect. Thanks to the synergistic active ingredients, the treatment restores the skin's youthful and healthy appearance. In a relatively short time (the effect is visible immediately after the first treatment), we can observe clear changes in the smoothing of the skin texture, shallowing of fine lines and wrinkles, and lightening of the complexion.

The Retix C treatment with an ampoule rich in antioxidants and a 4% retinol mask is recommended for various skin problems and can be used with maximum rejuvenation in all skin types.
Restoring the proper level of vitamin A in the skin
Normalization of the keratinization process
Lightening the skin and even out its colour
Reconstruction of collagen fibres
Stimulating the processes of cell renewal
Smoothing the skin and eliminating imperfections
Depigmentation
Moisturises, thickens, and improves skin tone
Protection against photo-damage
Strengthening the natural protective barrier of the skin
Reduction of imperfections: wrinkles, discoloration, blackheads
Lightening and illuminating the skin
Smoothing the skin
Increased skin hydration

photoaging
melasma
loss of firmness
imperfections: wrinkles, unevenness, enlarged pores
blackheads
blemishes
scars
stretch marks
grey, dull skin
The treatment does not require any special preparation
The procedure will normally be preceded by an in-depth medical interview.
Strong cosmetic products should not be used in the area where the treatment will be performed for a few days before the treatment
AHA's, BHA's and retinol for a minimum 28 days prior
Self-tans for 7 days prior
Waxing, hair removal or bleaching for 14 days prior
UV or sun exposure for 14 days prior
No sunbathing for 4 weeks
No use of AHA creams throughout the treatment period
If exfoliating the epidermis, it is strictly forbidden to scratch it
It is recommended to use products with an intense moisturising effect, because only moisturised skin can regenerate effectively
7 to 14 days (depending on the peeling) after the treatment, avoid bathing in highly chlorinated water
All cosmetics recommended by your cosmetic practitioner should be applied to the skin after the treatment in order to ensure proper regeneration and maximise the effects
Make-up should not be done for 48 hours to prevent infection
As with most of our cosmetic treatments, we recommend that you avoid vigorous exercise for 24h following your procedure and give up using saunas, swimming pools, gyms, hot baths, solariums, and other places with large groups of people
You should not drink alcohol for 24 hours
It is important to strictly follow the rules of hygiene: dry your face with disposable towels, tone the skin, keep make-up brushes, and sponges clean, regularly change bath and hand towels, avoid touching your face and replace clean sheets for the post-treatment period
During the treatment and one month after its completion, avoid contact with UV radiation and apply products with a broad spectrum of sun protection SPF 50.
For maximum therapeutic effects and as a continuation of the treatment, evening anti-wrinkle treatment with Retix C cream with retinol and vitamin C should be included.
After the treatment, redness, burning and peeling of the epidermis may appear, which will disappear over time
The skin after the treatment may be slightly tense
Some people experience slight redness, which disappears after 24-48 hours
Skin may feel tight and dry
Mild peeling/shedding may be experienced after the second day of treatment. These are positive effects of the treatment
pregnancy and lactation period
allergy / hypersensitivity to the ingredients of the products
bacterial, fungal, and viral skin infections, skin inflammation
active herpes, i.e., viral lesions
skin allergies
high susceptibility to allergies
damaged and irritated skin
connective tissue diseases
tendency to develop hypertrophic scars
tendency to develop keloids
discontinuity of the epidermis
neoplastic and autoimmune diseases (requires additional consultation)
use of corticosteroids (6-8 weeks)
oral therapy with retinoids, derivatives of vitamin A (at least 6 months break)
Surgeries (up to 2 months)
cryotherapy (up to 6 months)
skin cancers, including undergoing radiation therapy
chemotherapy
mental disorders, lack of cooperation
oral, long-term steroid therapy
active form of acne – purulent conditions
condition after tooth extraction
Wounds, erosions, damaged skin
exposure to UV radiation before and after treatment
decompensated diabetes
Our Other Chemical Peels Treatments
Treat your skin with affordable exfoliating solution